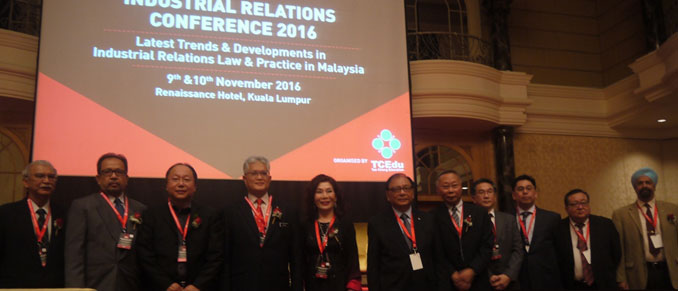 From left to right:
Datuk Yaacob Wan Ibrahim, Academic Advisor, TCEdu
YA Tuan Ishak bin Mohd Yusoff, Industrial Court President
Dato' Dr. Lim Weng Khuan, Director/Head of TCEdu
YBhg Dato' Mohd Sahar Bin Darusman, Timbalan Ketua Setiausaha (Dasar & Antarabangsa) Kementerian Sumber Manusia
Dato' Rosie Tan, Group Senior Executive Vice President, and Executive Director of TCMH
Dato' Dr. Ang Bon Beng, Executive Director, ETCM
Mr. Kuan Kim Luen, CEO, Renault & ED, TCEdu
Mr. Tan Keng Meng, CEO, WTCH
Mr. Daniel Ho, CFO, GFA
Mr. Wong King Yoon, CEO, TC Truck Group
Dato' Hardev Singh, GM, TCCR & Special Functions
IRC 2016 PRESS RELEASE
This Industrial Relations Conference is aimed at providing a specialised forum for delegates from every stakeholder group in the tripartite relationship to have intellectual discourse, and to share and exchange views as well as benefit from the hands-on experience and expertise of the Speakers. The Speakers are very experienced HR/IR practitioners as well as very seasoned practising lawyers and also very seasoned unionists specialising in the field of industrial relations and human resource management.
OBJECTIVE
The conference brings together all stakeholders in the industrial relations field comprising HR & IR practitioners, industrial relations lawyers, trade unionists, IR experts from the Judiciary (Industrial Court President and Chairmen), Malaysian Employers Federation (MEF), Officials from the HR Ministry, Academicians as well as students pursuing human resources/organizational development for an exchange of views and knowledge. The Panel discussions and question and answer sessions will allow a platform for a healthy debate or exchange of knowledge including dissenting views on current industrial relations laws, issues and challenges.
THE ORGANISER
Tan Chong Education is a trusted knowledge transfer partner between academia and industry for future growth within Tan Chong Group and the external public, with centres covering the Northern, Eastern, Central & Southern Peninsular Malaysia and East Malaysia too. We will soon be expanding our technical and vocational education and training (TVET) network to overseas countries in Indo-China.
THE SPEAKERS and TOPICS
Impact of TPPA on Malaysia Labour Laws and Industrial Relations
Datuk Shamsuddin Bardan, Executive Director of Malaysian Employers Federation (MEF)
Mr. Andrew Lo, Chief Executive Officer (CEO) of Sarawak Bank Employees' Union (SBEU)
Mr. Fong Khei Por, Director-General of Industrial Relations (DG of IR), HR Ministry of Malaysia
Practical Approaches to Forging Win-Win Union-Management Relationship
Mr. Simon Sim Thai Fong, Group HR Director, Hap Seng Consolidated Bhd
Mr. Bruno Gentil Pereira, VP of MTUC – Committee
Whistle-Blower Protection Act 2010 – Rights & Obligations of Employers & Employees And Judicial Remedies
Mr. N. Sivabalah, Senior Partner of Shearn Delamore
Mr. S. Muhendran, Co-Founder of Law &Practice Muhendran Sri
Judicial Precedents on Redundancy & Retrenchments – Rights & Legal Obligations of Employers & Employees
Dato' Thavalingam Thavarajah, Senior Partner of Lee Hishamuddin, Allen & Gledhill
Mr. Anand Ponnudurai of Bodipalar Ponnudurai De Silva
Collective Agreement Negotiations – Effective Strategies for Successful Conclusion
Mr. Chua Kim Lin, Senior Managing Director, Regional HR Services & Regional Industrial Relations of CIMB Group
Mr. Munjit Singh Gill, Industrial Relations Practitioner of MTUC