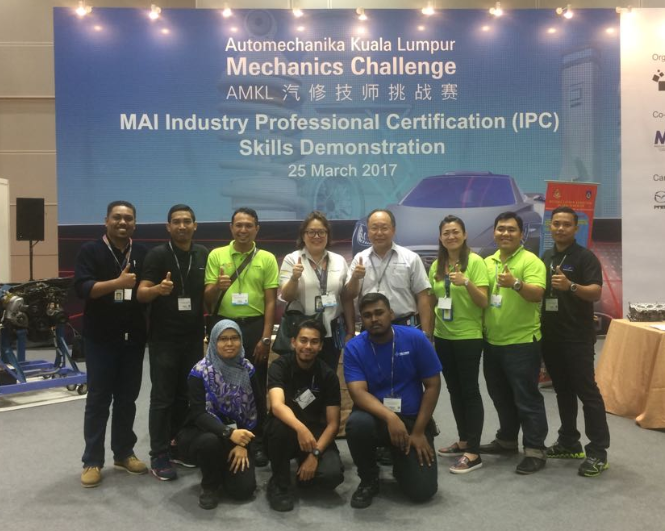 25 March 2017: Tan Chong Technical Institute Petaling Jaya (TCTECH PJ) participated in AutoMechanika Kuala Lumpur Mechanics Challenge organized by the Malaysian Automotive Institute (MAI) Industry Professional Certification (IPC) at KLCC. The AutoMechanika is an automotive skills demonstration challenge whereby TCTECH PJ performed a skill set entitled "CAN-Bus System" on a Nissan Latio. TCTECH PJ was represented by 3 trainers and 2 students.
The CAN-Bus System is a vehicle bus standard designed to allow microcontrollers and devices to communicate with each other in applications without a host computer. It is a message-based protocol, designed originally for multiplex electrical wiring within automobiles, but is also used in many other contexts.
The CAN Bus standard is a high-level protocol which offers various benefits compared to other simple wired protocols. For example, all the devices can send information whenever they want (if the bus is not busy) without the need of a master. CAN Bus offers addressing, acknowledge, and retry services. Besides, the protocol sets a standard frame that can be adapted in a flexible way. Last, it is easy to reach several hundreds of metres.
Gallery